This week just flew by! It was my first full week back at work, we were launching our new website and I've been super busy. It definitely makes the time fly by faster and before we know it, half the month will be gone! I hope you all had a great week as well and are getting back into a routine after Christmas.
The weekend was spent trying to catch up on some sleep, reading and writing. My sister just came back home from Ireland with my dad (she stayed longer than us) and it was great to see him on the Saturday. It'll be a while until I see him again in May, just before I head off for my holiday, which I am also looking forward to.
I think I mentioned in a previous blog post about trying to read a paperback/hardback book at the same time as a book on my Kindle and I think it's going pretty well. I managed to finish a novella and am over halfway through my current paperback (its nearly 600 pages, but I'm determined to finish it in the upcoming week).
Books I read and reviewed…
As I said above, I read a novella and it was none other than The Young Queens by Kendare Blake, which was only released this week. I flew through it and found myself easily slipping back into the world of Fennbirn and the three sisters. If you loved Three Dark Crowns and One Dark Throne, I would definitely suggest checking this out! I gave it a solid 5 stars and you can read my review here.
I am currently reading…
I think I underestimated how long it would take me to read Heir of Fire by Sarah J. Maas, the third instalment in the Throne of Glass series. It is a big book at nearly 600 pages and there is so much information I am finding myself taking the time to soak it all in. Now, that doesn't mean I don't like it, because I absolutely love it! It's just taking a while to finish.
This week I also started The Belles by Dhonielle Clayton, which I was approved for on NetGalley. I'm only about 10% of the way through, as I tend to read it just before I go to bed, but it's really good so far. I love the New Orleans vibe and the beautiful descriptions of the world. Hopefully when I get stuck into it more I have some great things to say about it.
Posts from the week…
Top Ten Tuesday: Books I Meant To Read In 2018 But Didn't Get To
Well, I managed to stick to my goal of 3 blog posts a week and I'm more than happy with that. In the future I am hoping to come up with some unique blog post ideas that I hope you will enjoy, it'll just take me time to get it all sorted.
My WIP…
Over the Christmas holidays I didn't get a lot of writing done as I was spending time with family and I was more than fine with it. So this week I wanted to get back to it and I think it was a successful week.
At my job I have an hour for my lunch and I'm managing to spend all of it typing away on my laptop, working on my novel. Each time, without fail, I write 1,000 words, which is the minimum that I have to reach everyday. So, within the week I wrote over 5,000 words, as some days I wrote a few hundred more, but I took a break yesterday as my brain felt fried. Turns out the day off was what I needed as I've written way over 1,000 words today, giving me a total of 59,000.
Fingers crossed I can carry this on in the upcoming week!
Other Fun Stuff…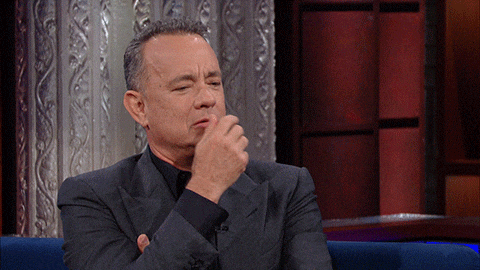 A visual representation of me trying to think of something fun…although I can't come up with anything. I've literally just been working, reading and writing. I'm also waiting for all my TV shows to come back from the break. So until then, I don't think there will be a lot in this section.
That was my week in a nutshell. I hope all of you had a successful week of reading and whatever else took place!