October is my favourite month. Not just because I love the Autumn weather, but also because all my favourite TV shows start up again (and who doesn't love a good binge?) So I thought I would share with you all the ones I have been loving the most recently.
The Originals
While I am still sad that The Vampire Diaries will never grace my TV screen again, I am glad that we still have one more season of The Originals to see (I'll be sad when that one ends too, but at least I can prepare for it). I have recently been catching up on season 4 on Netflix before season 5 starts sometimes in 2018, but I will be finished before then.
I have loved this family and all the drama they bring with them since their introduction on The Vampire Diaries. Even when we were supposed to hate then, we still secretly liked them and their charm. It is hard to decide who is my favourite. My mum thinks Klaus is amazing, with his witty words and troubled past making us feel for him. I, however, prefer Elijah, with his dashing suits and charming demeanour. Then there is Rebekah, the sassiest of them all (and whose outfits I am jealous of).
There is something for everyone to love in this show. You are guaranteed gruelling deaths, romance, a lot of fighting and you may even shed some tears along the way. But most of all, once you start watching, you will be hooked.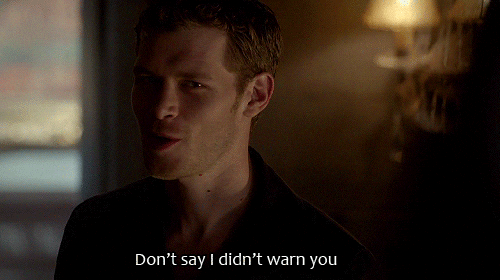 Lucifer
I cannot even begin to describe how much I enjoy watching this show. Lucifer is definitely my guilty pleasure and never fails to keep me laughing along with the witty jokes and comments. The show revolves around the devil himself as he lives a lavish lifestyle in LA, away from the doom and gloom of hell. There he meets a detective, Chloe, and helps her to solve crimes and punish those that do wrong.
At first I didn't know what to expect, but now we are on the third season and it only gets better. This show will reinvent how you think the devil looks and acts, and it also boasts a whole host of other characters that are just as amazing. The person who created this show has done an amazing job at taking an idea and making it so original. Don't believe me, check it out for yourself!
Riverdale
Thank you Netflix for having this show so that I am able to watch it here in the UK. I was a little late starting this when it aired. Half of the show had already been uploaded at the time, which just made it easier for me to binge watch and I did just that. I was hooked straight away. I love a good mystery and Riverdale offered just that, along with a ton of teenage drama that I can't get enough of.
It is based off of the Archie comics, which just so happens to also include Sabrina The Teenage Witch (who didn't watch that when they were growing up?) I may have never read the comics, but I am a big fan of this show and all that it offers. Riverdale is dark, twisted and makes you question a lot of peoples' motives. There is a lot more than meets the eye here and I can't wait to find out where season 2 takes us.
What TV shows are you loving right now? I would love to know if there's any I'm missing out on.